If you fail to pay your IRS back taxes in a timely fashion, the resulting penalties and interest can cause your debt to balloon far beyond your control. If you're currently suffering from a back tax problem, don't put off seeking professional tax assistance. In Indianapolis and nearby areas, turn to Taxation Solutions, Inc. when you need help with IRS back taxes. Our tax experts have more than 40 years of combined experience in the tax resolution industry, as well as all of the necessary licenses and training to get your problem solved right away. Call us in for help, and we'll find a viable solution to your unpaid taxes!
At Taxation Solutions, Inc. we offer services for both individuals and businesses dealing with delinquent taxes. You can turn to us for back tax help with:
Filing late tax returns
Correcting errors made on past tax returns
Finding the best tax resolution strategy
Negotiating tax settlements with the IRS
Setting up a payment plan so you can tackle back taxes head-on
Ensuring that you don't have back tax issues in the future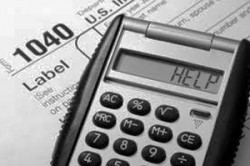 From your initial phone call and consultation until we're able to close the file on your problems with delinquent taxes, you can rest assured that our back tax advocates will be with you every step of the way. Once we find a solution and offer you back tax relief, we can provide advice to help you avoid getting into trouble with IRS back taxes in the future. Serving Indianapolis and the surrounding region, our top priority is to get your personal or business finances restored to a healthy state right away, so you don't incur any additional fees or penalties that will end up further damaging your financial situation.
For your security and peace of mind, Taxation Solutions, Inc. is fully licensed and insured, and our back taxes help experts work hard to keep current on issues related to providing tax assistance. We believe that it's important to provide our clients comprehensive help with back taxes, including friendly and professional customer service and knowledgeable, detail-oriented, and thorough work on your case. We want you to feel 100% confident that by choosing Taxation Solutions, Inc. your back tax problems will be resolved in the most effective manner possible.
Call us now for a free cost estimate for help with back taxes! We'll listen to your needs, from filing a tax return late to seeking tax settlements, and we'll come up with a personalized plan of action to get you results. Don't let owing back taxes destroy your family's or your business's financial security when one call to Taxation Solutions, Inc. can help.
Get Back Taxes Help Today
Are you facing an IRS deadline that's threatening your financial future? Taxation Solutions, Inc. will be there for you when you need us most. We are proud to provide emergency services for taxpayers who need to file back taxes and negotiate IRS settlements. The sooner you contact us for help with back taxes owed, the sooner you can get back to your life and breathe easy once more. Contact us today to speak to one of our seasoned tax specialists about your needs and start tackling your tax problems!