If you've received notice of an impending IRS audit, worrying about it is natural. However, you shouldn't let this concern take over your life. It's true that tax audits include a thorough and intense investigation into your personal or business finances, and that simple fact can be nerve wracking, but the good news is you don't have to go through this process on your own. Before you get stressed out thinking about the worst possible scenario, get in touch with Taxation Solutions, Inc. We're Indianapolis's best choice for IRS audit help because we have more than 40 years of combined experience helping individuals and businesses just like you come through IRS audits with the most favorable results. Get in touch with us today to schedule a free consultation!
You can turn to Taxation Solutions, Inc. for a wide range of audit defense services, including:
Determining the reason for your audit by the IRS
Assisting you in gathering the required paperwork for the audit
Helping you meet all filing requirements and deadlines
Representing you during the audit proceedings
Talking through possible IRS audit penalties that could result
Negotiating tax settlements and repayment plans if you're found to owe taxes following the audit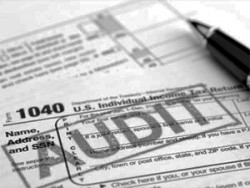 With our knowledgeable and experienced tax professionals by your side during an IRS tax audit, you'll get all of your questions answered. You'll also be able to trust that we're taking the right steps to work toward the ideal outcome. Our audit defense services are aimed at getting you the best possible IRS auditing results, and we're ready to assist you in any way we can. With our help, you won't have any trouble with the audit process or with negotiating an offer in compromise or other tax settlement, if necessary.
Our top priority is ensuring that our clients get the best possible IRS audit representation. When you hire us to help during an IRS tax audit, you'll always work with a tax professional who is friendly, skilled, and detail oriented. We even have a tax attorney on staff if there are any legal issues that go along with your audit.
IRS Audit Defense From Experienced Pros
At Taxation Solutions, Inc., our IRS auditing experts have the knowledge and experience necessary to meet your needs before, during, and after your audit. Not only are we fully licensed and insured for your protection and peace of mind, but we're also affiliated with the American Society of Tax Problem Solvers. This affiliation, combined with our more than four decades of combined experience with audits by the IRS, makes us one of the most qualified tax firms serving Indianapolis.
If you're being audited by the IRS and you need reliable IRS audit help, look no further than Taxation Solutions, Inc. We're ready to put our experience with IRS tax audits to work for you!