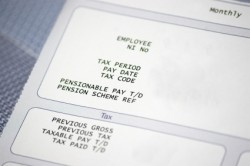 Taxation Solutions, Inc. understands all of the responsibilities that go along with running a business—including filing IRS payroll taxes properly. We know that there is quite a bit of paperwork to consider, including withholdings and Social Security, and that it's difficult to get things right when you're already juggling inventory, utilities, and customer service issues. With all of this going on, it's easy to miss an important step in filing IRS payroll taxes. If your Indianapolis-area business is currently experiencing a payroll tax problem and you need professional help, Taxation Solutions Inc. is here to offer you assistance. We can bring you the business tax relief you need to keep your company running strong!
There are a number of reasons why your company may have been hit with payroll tax penalties, including:
One-time or ongoing failure to pay payroll taxes
Paperwork or filing errors
Bookkeeping errors
Misclassification of employees
Even if you're not sure what's causing the problem with your payroll taxes, the tax relief specialists at Taxation Solutions, Inc. will go through your records with a fine-toothed comb to determine what the root of your payroll tax problem might be. Our tax consultants are knowledgeable, highly trained, and attentive to even the tiniest details that might be causing your company tax problems, so you can trust that we'll be able to locate the issue and address it. We won't rest until we've solved your specific issue and provided you with a clear and feasible strategy to get rid of your business tax debt.
Relief for All Business and Payroll Tax Problems
When you're struggling with unpaid payroll taxes, waiting to resolve it will just make the situation worse. That's why you need to address the problem head on, no matter how tough you think it might be. The tax experts at Taxation Solutions, Inc. understand the seriousness of payroll tax penalties, and we'll stop at nothing to solve your company's problems right away. When you're facing an impending payroll tax penalty deadline, we'll get started on your case right away and work tirelessly until we can bring your company tax relief. Our goal is to help you deal with issues right away to avoid the payroll tax problems that can compound over time.
Our firm is fully licensed and insured to handle business tax problems, including providing payroll tax help. We also have more than 40 years of combined service working in the tax industry, and that means you can feel completely safe and secure trusting your business's financial matters to our capable team.
For tax problems help you can trust in Indianapolis, look no further than Taxation Solutions, Inc. Call to book your initial consultation with one of our tax advocates or tax attorney. We'll listen to your description of your issues and give you a free cost estimate for resolution of your unpaid payroll taxes!