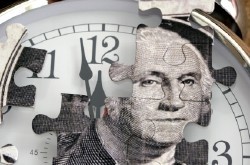 The government can withhold a portion of your paycheck to cover an unpaid tax debt. While this might seem like an easy way to repay what you owe, wage garnishment can actually lead to serious financial hardship. Without full use of each paycheck, you might have a hard time paying your rent or taking care of your family. To help you stop wage garnishment and negotiate an alternative tax repayment strategy, turn to Taxation Solutions, Inc. We help taxpayers throughout Indianapolis and the surrounding region deal with IRS wage garnishment and other issues. Now, it's your turn. Call today!
How to Stop Wage Garnishment
Ending wage garnishment isn't generally something you can do on your own. You'll need a skilled tax resolution specialist on hand to present your case to the IRS in the strongest possible way. At Taxation Solutions, Inc., we know how to stop wage garnishment in all sorts of scenarios. We'll tailor our services and strategies to your specific needs to ensure you get the best results. If IRS garnishment is a burden in your life, we'll help take the weight from your shoulders.
As a licensed and insured tax help firm, Taxation Solutions, Inc. is committed to meeting our clients' needs. We'll call on our experience and training to ensure that you're able to move forward into a brighter financial future. Even after we stop wage garnishment on your behalf, we'll stay by your side to help you set up an alternative tax settlement and get your finances on the road to recovery.
Want to learn more about how Taxation Solutions, Inc. can help you? Contact us now!